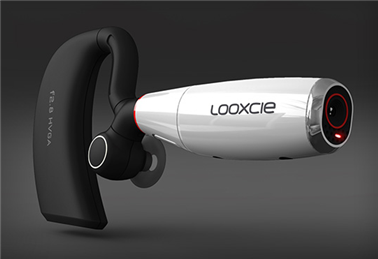 Consumer gadgets continue to increase in capabilities, shrink in size and, in many case, drop in price. Evelyn Rusli reported on TechCrunch a small over-the-ear video camera called Looksie, which is priced at only $199. Wearable video cameras aren't new; options include:
The video quality of the new Looksie device is worse than the choices I just outlined. Yet, Looksie is the first consumer-friendly device that I've seen in an attractive form factor. More interestingly, it integrates with Android phones (sorry, iPhone people) to transmit video over Bluetooth and share it over the Internet.
According to Looksie's description on Amazon, it has "enough temporary storage for five hours of continuous video capture. […] Once the five-hour storage capacity is reached, new video automatically replaces the oldest video."
An over-the ear wearable video capture device that is relatively inexpensive has interesting security applications:
If you inadvertently witness a crime, you have video footage of the event, regardless of whether you are the victim or the witness. (I hope you never have to do this.)
If you perform a physical security walkthrough, say as part of a penetration test, you easily record what you see without attracting undue attention. (Looksie looks a bit like an over-sized hands-free phone headset; in fact, it actually has headset capabilities!)
If you perform computer incident response, you can record video of what occurs on your screen as soon as you arrive on the scene. (Though remember that some corporate and government environments prohibit video recording.)
If you perform penetration testing that includes shoulder surfing, you can record people's keyboard or screen activities with a simple glance in their direction. (Of course, this capability can be misused by miscreants.)
If you're about to get into a fight with your friend over an insult he said, you can substantiate your claim with sound and video of the offense. (OK, I doubt that will diffuse the situation, but I'm running out of ideas.)
When it comes down to it, it's great to see a nice-looking personal gadget that allows people to capture their surroundings in new ways. Oh, and if you're wondering, lots of comments in the TechCrunch post about Looksie already mention the point-of-view pr0n capabilities. So let's not go there.
By the way, at another end of the video capture devices is Anybots' telepresence robot called QD. You can order it for $15,000. Acting as your avatar, "QB has a speaker, microphone, camera, and video screen. It connects to the internet over Wi-Fi. You control it from your computer in a web browser, using a headset and screen." You can remotely see and speak through QD without having to walk to the subject. According to the Technology Review, QD is "equipped with an obstacle-sensing and guidance system to avoid crashing into things."

What will they think of next?
Updated
September 22, 2010