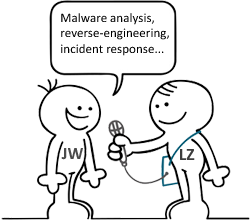 I had the pleasure of speaking with Jake Williams, my colleague at SANS Institute, about his perspective on various malware analysis and reverse-engineering topics. You can read the interview in three parts:
Part 1: Getting into digital forensics, crafting a strong malware analysis reports and making use of the analyst's findings
Part 2: Acting upon malware analyst's findings and the role of indicators of compromise (IOCs) in the incident response effort
Part 3: Various approaches to malware analysis, including behavioral, dynamic, static and memory forensics 
Jake is highly experienced in this space and shared helpful insights in the interview above. Jake will be teaching FOR610: Reverse-Engineering Malware on several occasions at SANS this year.
Updated
February 18, 2013