Understanding how you might enter a new field or grow in your current position involves understanding the options and the career paths of other people in the industry. Taking the time to connect with and talk to your peers and the individuals you look up to can help with this. To gain another perspective on the career landscape, explore the resumes of people in your industry.
You can find people's resumes by searching Google and also get similar data by looking at LinkedIn profile. An easier way of mining lots of relevant resumes might be the new resume-searching feature of Indeed. This is the only major job search site I know that lets you do this for free and without having to register as an employer.
One of the nice features of the site is its auto-complete capability, which helps you identify title variations for a given keyword. The site also lets you limit searches to a particular geography.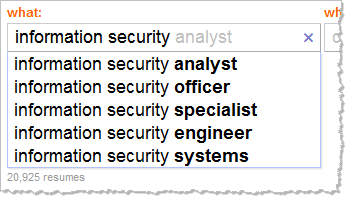 You can also look at resumes of people working in a particular company by using the "anycompany:" tag in the search box, such as "anycompany:IBM". This can be especially helpful if you are planning to seek a job at that company.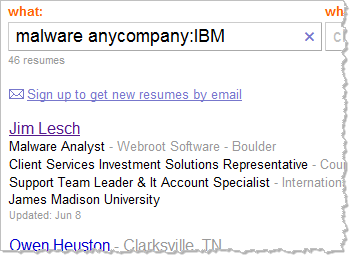 I suggest looking for resumes of your peers to get a sense for how your experience compares to them. The most useful aspect of reviewing resumes, though, might be to look at people who are more experienced in the field of your choosing. This way you can get a sense for what awaits you, what type of experience you need to gain and what types of companies and positions you might consider applying for.
Updated
September 5, 2017