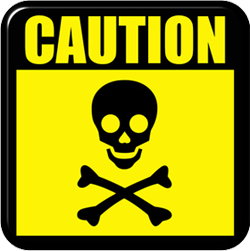 "What is the worst information security advice you ever received?" I asked on Twitter. I'd like to highlight (paraphrase) some of the responses and also to point you to a listing of more bad infosec recommendations. This way you know what to advise your adversaries and, perhaps, what mistakes to avoid making yourself.
Just to clarify, the "advice" below is what the kind folks on Twitter received and shared with me. This is not the recommendations they themselves made.
Password Security
Network Security
Security Practices
Malware Defense
Other Areas
More Bad Advice
Since I've heard (and maybe even given) my share of bad information security advice, I created some time ago a cheat sheet called How to Suck at Information Security. It lists 53 common infosec mistakes ('cause listing 54 would give your adversaries too much ammunition).

Thanks to everyone who shared with me the bad advice they received! I got more responses than I could fit into one blog posting.